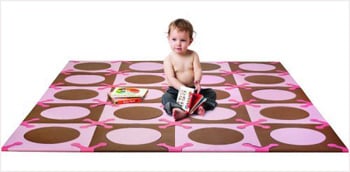 Our family heirloom Oriental rug is probably too nice for our 15–month–old daughter to play on, but, since it's soft and safe, she spends most of her time on it. Even snacking, which means I am constantly vacuuming and patting it down.
To learn about the perfect solution,
.
Gone are the days of perpetual cleaning as I found the Skip Hop Play Mat $74. It does for babes what newspapers do for puppies, minus the accidents. The mat puzzles together, making it practical for any room in the house. Available in pink and brown, blue and brown, and bright spots, the cheerful area coverings can adapt to your home decor without looking like an eyesore. And, when there is a mess, just brush or dab it up from the soft cushioned squares.