Smartphone-Based Ultrasound Machine Gets FDA Approval
An Ultrasound on the Go: There'll Be an App For That!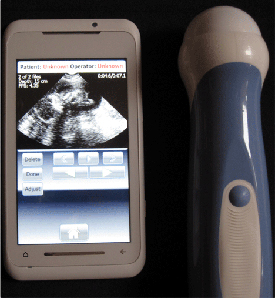 Smartphones can do just about anything these days, including conducting a sonogram on an expectant mama! A Redmond, Washington-based company just received FDA approval to sell the world's first phone-based ultrasound system.
The MobiUS, which will be sold commercially to medical professionals, uses a Toshiba Windows Mobile-powered smartphone, the company's software, and an attached probe to conduct ultrasounds. The phone's cellular network and Wi-Fi capabilities then allow doctors to send the images to others, including family and friends. The company behind the phone hopes it will help provide medical care to pregnant women in remote areas.
Though ultrasound machines cannot be sold for personal use due to the "Tom Cruise law," I imagine it will only be a matter of time before parents try to buy a MobiUS!