Snooki Talks Pregnancy and Parenting on Jersey Shore
Pickle-Eating Snooki Talks Parenting on Jersey Shore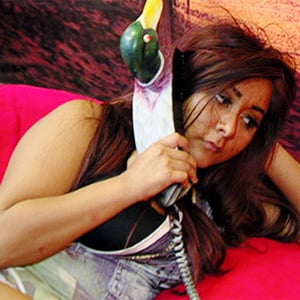 Jersey Shore is many a mom's guilty pleasure! Though the women who are raising America's next generation hate to admit it, there's something endearing about Snooki, Ronnie, Pauly, JWoww, Sammi, Vinny, and Mike — after you get past the brawling, bad language, and shacking up. The fist-pumping party-goers hook up so much each season that there's always that scary prospect of someone becoming pregnant. Since a crib in the shore house would really crimp the cast's style, let's hope they don't embark on parenthood for a long time. But, in watching the latest episode of the reality show, Snooki's familial instincts were hilariously apparent.
Snooki eats more pickles than a pregnant woman! And she's also got the ice cream thing going on since she used to scoop gelato in Miami.
"The worst thing a parent can say to their child is I'm not mad at you, I'm not upset with you, but I'm disappointed in you." — Snooki on parenting after she got reamed out by her father for getting arrested.
"I think Jenni and Roger as a couple would be amazing. It's your typical gorilla guidette couple. And, they would have the most amazingly cute babies ever." — Snooki on family planning.
Photos copyright 2011 MTV