Soldier's Surprise Homecoming Brings Hockey Stadium To Tears
Soldier's Surprise Homecoming Brings Hockey Stadium To Tears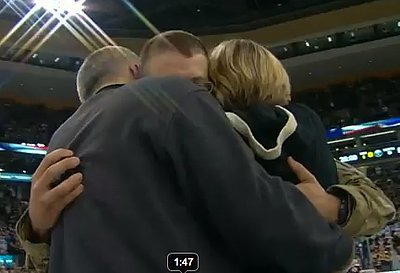 Charlie Jacobs gave his parents the surprise of a lifetime on Saturday. Lori and Daron Jacobs were invited to a Veteran's Day weekend Bruins game to drop the puck in honor of their son, First Lt. Charles Jacobs, who is serving in Afghanistan. But the ceremony turned into something even sweeter: as the Jacobs prepared to do the drop, their son walked out onto the ice to hand them the puck!
Watch as Jacob's mom, already fighting tears, greets her son, and as 17,000 fans give the returning soldier a standing ovation.
What's the best homecoming story you've heard?