Spinach Fritters
Delilicious: Spinach Fritters One of the best things about leftovers is that they make great kid-friendly food the next day. Inspired by Rachael Ray's Everyday magazine, I made some tasty spinach fritters and pork chops the other night. Rather than cooking up another meal the following evening, I zapped small portions of the previous night's dinner for my daughter. Much to my surprise, she LOVED the spinach fritters. Corn, carrots, zucchini and green beans have all been staples in her diet, but spinach, — forget it! I relished in her veggie delight, especially knowing that it didn't take a sneaky chef to convince her to eat a healthier, yet tasty, option.
To see how to make these yummy treats,
.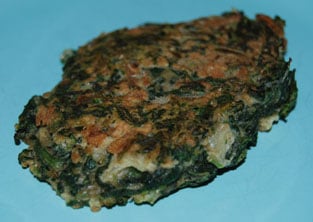 Spinach Fritters
Rachael Ray Everyday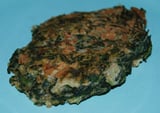 Ingredients
One 10-ounce package frozen chopped spinach, thawed and squeezed dry
1/4 onion finely chopped (about 1/4 cup)
1 large eggs
2 tablespoons flour
1 teaspoon ground cumin
2 tablespoons extra-virgin olive oil
Salt and pepper
Directions
In a large bowl, stir together the spinach, onion, 2 eggs, flour and cumin; season with salt and pepper.
In a large nonstick skillet, heat 2 tablespoons olive oil over medium heat.
Spoon heaping tablespoons of the spinach batter into the oil.
Cook the fritters until crisp and browned, about 2 minutes on each side.
Information
Category

Vegetables, Side Dishes