Starting Solid Foods 2010-03-05 04:00:20
The Best Time to Start Solids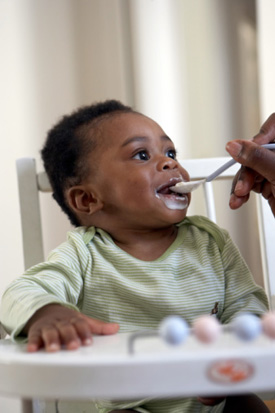 Are you ready to make the switch? Moving your lil one to a diet that includes solid foods can be an exciting time. While many of today's parents were fed rice cereal almost from the get-go, doctors currently recommend holding off until tots are between four to six months old before bringing a spoon to their mouths.
Before introducing the baby cereal, most pediatricians look for wee ones to exhibit certain developmental milestones such as sitting up (with support), doubling their birth weight, and showing interest in food. Even if your hungry tyke is salivating when watching you eat at four months, some docs insist on maintaining an exclusive breastmilk or formula diet until they reach the half-year mark.
When did you start introducing solid foods?