Storybook Masks Bring Books to Life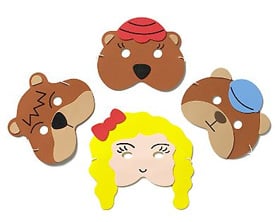 There's a reason classic storybooks continue to resonate with lil ones. The sweet tales, with their fun characters, colorful story lines and ultimate morals, have educated generations of tots.
Getting tykes interested in the classic characters can be a tough sell. Given all of the products associated with the movies, television and video games they watch, it can be hard to convince a wee one to follow a classic tale like Goldilocks. With EQD's storybook mask sets ($12), traditional books and songs come alive. Each set includes four or five foam masks that can be used to act out the traditional tales or sing along to the nursery rhymes. Perfect for dress-up, impromptu plays and even classroom story times, the sets include such beloved stories as Cinderella, Three Little Pigs and The Ugly Duckling.