Stressful Mother-Daughter Relationship
How Well Do You Get Along With Your Mama?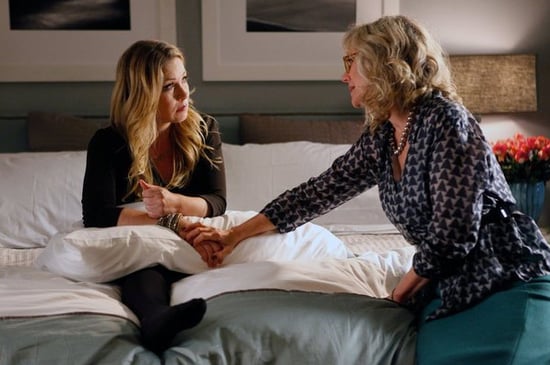 A recent study concluded that a mom's relationship with her mother-in-law is the most stressful part of parenthood — but your own mother can cause stress in your life as well.
The relationship between mother and daughter can be quite complicated. Some women have great relationships with their own mothers, while others try to avoid having a relationship altogether. One disagreement with mom can send even the most seemingly put-together parent back to those teenage years, when she cried in her room blaring loud music and dreaming of the day when she would be the mom — she would do things differently.
On last night's episode of Up All Night, Christina Applegate's Regan did just that. She tried to avoid a visit with her parents due to her stressed relationship with her mom, played by Blythe Danner. In hopes of having a great relationship with her own daughter in the future, Regan decided to lead by example and tried to connect with her self-absorbed mom. In the end, it all worked out — but not before Regan had a good cry in her room.
So tell us, how well do you get along with your mama?