Most parents know the joy (for your kids) and agony (for you) of toys [1], toys, and more toys . . . in every single room of your house. Give all that kid-friendly clutter a pretty place to live in one of these brand-new storage bins. From some of our favorite retailers for kids (Land of Nod, Ferm Living) and adults (CB2, West Elm), these bins are stylish enough to live in any room and big enough to hold an abundance of Legos, books, stuffed pals, and more. Start shopping!
Ferm Living Spear Basket ($80)
Danish design company Ferm Living always makes supercool kids' products, and the organic cotton Spear basket [2] is no exception. The basket is lined with nonwoven fusion paper and comes with leather handles.
Land of Nod Kneatly Knit Storage ($25-$49)
Available in aqua, pink, and yellow and in three sizes, Land of Nod's Kneatly Knit Storage [3] is made of hand-knitted woven rope — a cozy and functional addition to any room.
3 Sprouts Raccoon Storage Bin ($32)
Made of cotton with a felt appliqué, 3 Sprout's raccoon storage bin [4] is a whimsical way to store toys. Check out 10 other animal options [5], from a cool camel to a zany zebra, as well.
Land of Nod Charming Baskets ($45-$89)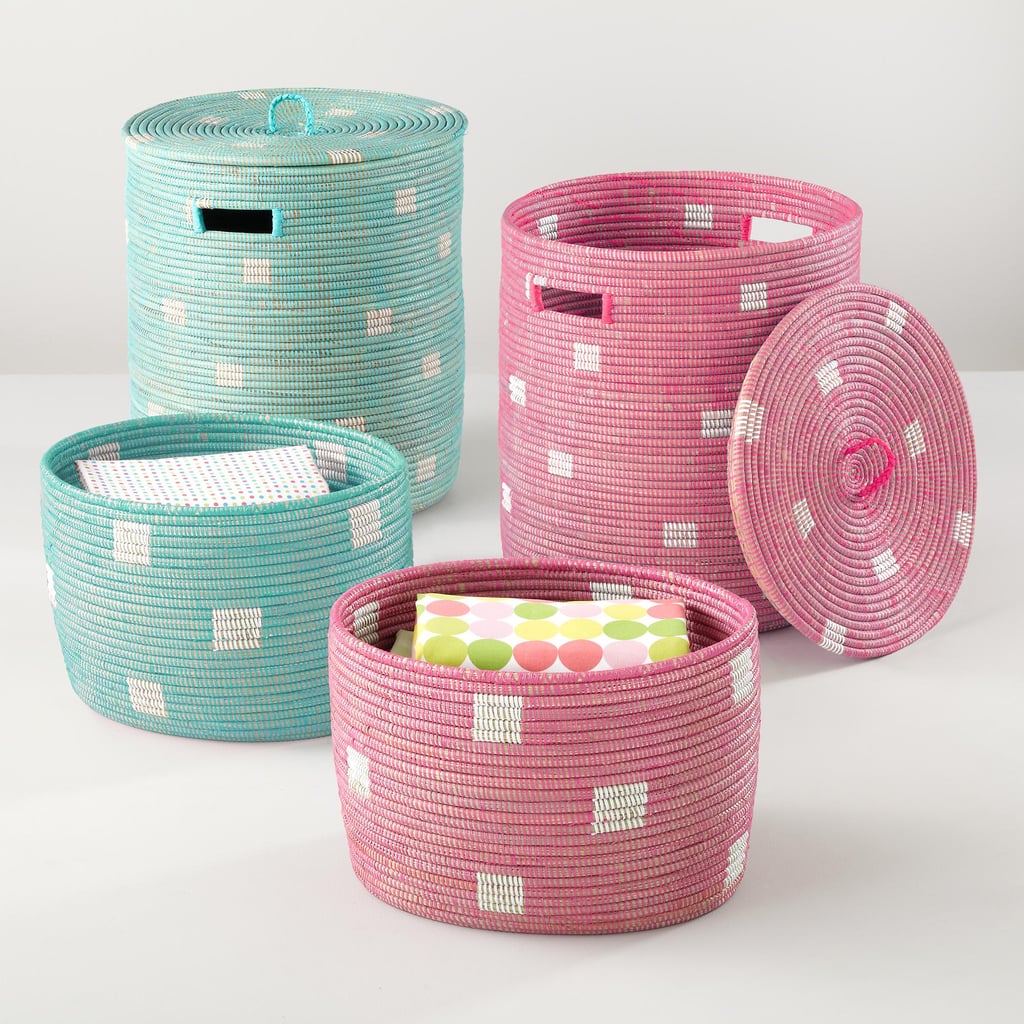 Handmade in Senegal, West Africa, by Wolof artisans who use environmentally friendly, sustainable materials, Land of Nod's Charming Baskets [6] come in two sizes (a bin and a hamper with a top) and two colors.
RH Baby & Child Industrial Basket & Toy Liner ($299)
Your child won't forget what goes in RH Baby & Child's Industrial Basket [7], which includes a machine-washable cotton canvas liner printed with "toys" on both sides.
Serena & Lily Cabana Bins ($24-$44)
Available in black, blue, pink, and green, Serena & Lily's Cabana Bins [8] are made of tightly woven plastic, which rinses off easily. Buy one of three sizes, or get all three for $88.
RH Baby & Child Vintage Canvas Storage ($26-$46)
RH Baby & Child's heavyweight canvas containers [9] have a light charcoal stripe that gives them a vintage look. The handled bins fold flat when you're not using them and can be personalized. Also available with a blue stripe [10].
Creat4usKids Fabric Toy Bin ($60)
Etsy's Creat4usKids makes adorable diaper caddies, clutches, wet bags, and toy bins, like this on-trend chevron version [11]. You can customize both the chevron and lining colors.
CB2 Cardboard Storage Trunk ($25)
A tongue-in-cheek take on a vintage trunk, CB2's cardboard catchall [12] has illustrated buckles, handles, and accents and is big enough to store a ton of toys. Coloring is optional.
West Elm Woven Felt Baskets ($29-$59)
Handwoven felt is both soft and sturdy in these West Elm baskets [13]. Available in four sizes, they are a modern, sophisticated take on the old-school basket.
Land of Nod Buffalo Check Storage ($25-$49)
Perfect for a boys' room, Land of Nod's Buffalo Check storage bins [14] are made of brushed cotton and feature handles on two sides. Also available in a red-and-blue-check pattern.