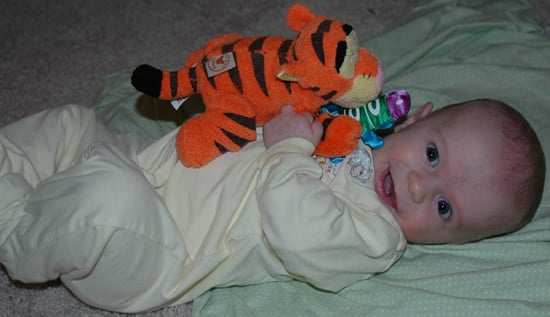 Nothing gets by this babe! A Denver native, Tucker Leo was born in November and has been busy ever since. Between jetsetting to Mexico and Palm Springs, the passport toting tot loves to read books, and stretch out on his play mat.
A pint-sized people person, Tucker loves spending time with his grandparents and likes to stand up (with support) and survey his surroundings. While being changed, the sweet child chats it up and doesn't mind going to visit his doctor. And, this small fry has a sense of humor, finding sneezes hilarious.
To learn more about his lovable guy and check out his pics,
.
Bound to be a lil heart breaker, his mom says he likes to smile, flirt and go on walks. But when it's time to hit the hay, the babe sleeps swaddled and sucks his fingers and hand.
Needless to say, Tucker is the most amazing thing that has ever happened to his parents.
Remember to join the Sugarbabies group so you can share pictures and information about your favorite Sugarbabies!