Suri Cruise Goes Sleeveless and Sweaterless in Cold Weather
Do You Let Your Tot Win the Wardrobe Wars?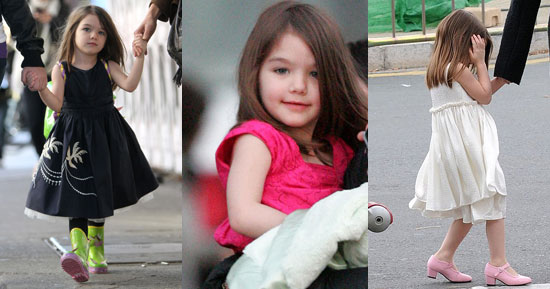 We've all been there. It's frigid outside and your wee one refuses to don the topper that is sure to keep his noggin warm. Other moms stare at you and occasionally you hear, "Where is his hat?!" as if you never thought of such a novel idea. Try as we might, our lil ones don't always go along with our plans. In recent weeks, we're noticed sweet Suri, stylish as she may be, has been remiss in putting on a sweater or coat to keep her warm while everyone around her is bundled up in down jackets and scarves. Mama Katie and daddy Tom surely must try to cover her up but it appears tank dresses and dancing heels may be all the young girl fancies. Perhaps she is cold-blooded and not bothered by the wintry weather, or maybe her parents have decided the lack of clothing is not worth the temper tantrum. I know I've given up the hat wars myself.
Do you let your child choose his wardrobe regardless of his needs?