Suri Cruise in High Heels
Tips For Keeping Lil Feet Out of High Heels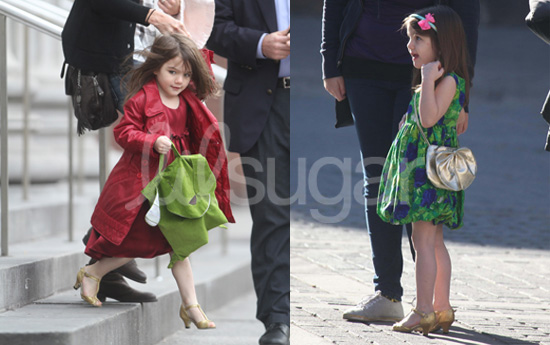 Is trendy tot Suri Cruise causing problems for moms other than her own? Though mamas may envy the precarious preschooler's designer duds, her love of mini high heels has other lil girls asking for a pair of their own, and is drawing the ire of doctors and parenting experts alike.
On a recent appearance on The Early Show, Parents magazine editor Dana Points advised parents to steer their lil ones away from the grown-up footwear until their pre-teen years:
"At the age of 5 and on up until 10, 12, the bones are still forming. The print is forming. You can get some shortening of the tendons in the heels. So you really don't want to let them spend more than a little time every week in some kind of heel."
Though 56 percent of LilSugar readers have kept their wee ones' feet planted firmly on the ground, keeping budding royalty away from the heels that their adored princesses wear isn't easy. Points recommends pre-shopping at shoe stores in order to offer little girls a few more sensible options and then provide them with tools for accessorizing their kicks like clip-on flowers, rhinestones and fabric markers.
How have you combated the high heel dilemma in your home?