Sweet Meats Encourage Food Play
Go Ahead — Play With Your Food!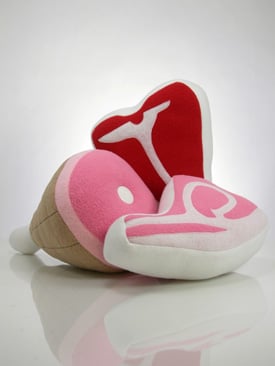 Parents may not be keen on their kids playing with food at the dinner table, but when it comes to tykes setting up a little restaurant or grocery store, things are more hands on. Food play encourages creativity and the more realistic the food looks, the better.
San Francisco-based Sweet Meats creates plush "pillows" designed to look like popular cuts of meat, including T-bones, pork chops and ham bones ($65 for the set). The adorable fleece toys are made from 100 percent recycled materials and colored with recycled AZO-free dyes. Ideal for carnivorous families wanting to encourage their kids to try new foods, the company also plans to introduce a plush bacon line this Summer.