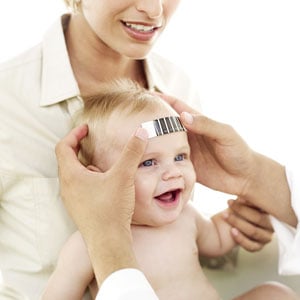 Trying to wrestle a cranky fevered baby for a temperature reading can be like trying to wash a cat in a bathtub. But when baby's feeling hot and bothered, it's time to pull out the thermometer and gauge the tot's temperature. Easier said than done, there are some simple steps mama can take to get the job done without screaming and crying.
Infants three-months-old and younger: Children 90-days-old and younger should be carefully watched for fever. To get the most accurate and easiest read, most prefer the rectal route.
Rectal: It is often easiest to take a newborn's temperature using a digital rectal thermometer. To ease the pain, parents can lay the child on a changing table as if changing a diaper. Dab a bit of Vaseline on the tip and lift the legs as if applying diaper cream. Insert the thermometer and wait for the beeping when the degree is revealed.
If the number is 100.4°F (38°C) or above, the doctor should be notified.
To see how to deal with older babes,
.
Older infants and toddlers:
Older children are more cognizant and less excited about the rectal readings. If they resist such use, parents can default to using a regular digital indicator, a digital ear or pacifier thermometers. If the child is still alarmed, mommy can do a test on herself to show him how easy it is.
Regular: If using a regular thermometer under the arm, make sure it is touching only skin. When using this method, I place it under my child's naked arm, scoop him up so his arm and body are pressed against mine. I hold him like this until it beeps and then let him move around at will. There are also cartoon adorned gadgets that can get excited lil ones through the fear.
Pacifier: Not a regular user of pacifiers, my two-year-old daughter delights in sucking on the digital one making it a fun and rather simple task for me. Tots who take to the paci will make this a cinch, too.
Ear: Many schools opt to use the digital ear thermometers as it is easier to use with numerous patients. They also typically offer a quick reading (sometimes in a few seconds) and are less threatening to children.
Babies between three and 12-months-old gauging a fever of 102.2°F (39°C) or higher or lasting longer the 24 to 48 hours should be reported to their doctor.
Older children:
Aware of their symptoms and feelings, older children are generally willing to let their parents take their temperatures. Preschool aged youngsters may be able to hold the digital thermometer under their tongue for the duration of the reading. If they are not capable quite yet, try the armpit or using an ear thermometer.
Call a pediatrician if a child has a fever lasting longer than 48 to 72 hours.
If calling the pediatrician, make sure to report that actual reading and the method in which it was taken.
Source