Tasty Treats For Halloween Bashes: Sparkly Cookies on Sticks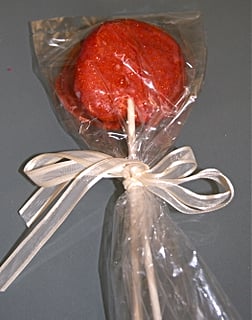 If your little goblins won't be satisfied with fancy fruit lollipops, indulge their sweet tooth by making small sugar cookies on sticks.
These simple treats are easy to make and don't require a fancy production line. Just bake your favorite sugar cookies from scratch or a pre-made batter and impale round dough with lollipop sticks (can be found at a party or gourmet store) before they are baked. Ice with a simple sugar icing and decorate with sparkles or candy corn. If you're feeling adventurous ask your lil helpers to turn the cookies into pumpkins by drawing funny faces with candy or black cookie icing.
Wrap your final project in a cellophane bag with a ribbon for a pretty party favor.

Hosting a Halloween party this October? Whether spooky or sweet, we have you covered with our new designs for Pingg! Create your invite, then send reminders to your guests via email, SMS, and Facebook.