Teaching Babies Right From Wrong
The Baby's Brain: Children Born Knowing Right From Wrong?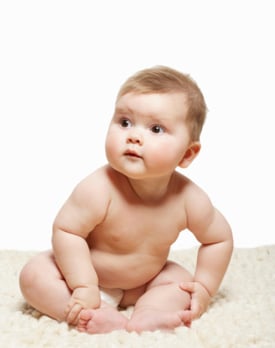 Is a baby a blank canvas when it enters the world, or does it already know right from wrong? In an article that is set to appear in this weekend's New York Times Magazine, psychologist Paul Bloom explores the morality of babies that can't even talk yet to determine how influential parents are in their children's moral development.
Using puppet shows depicting good and bad characters, Bloom and his team of scientists watch the tots' reactions and invite them to pick their favorite actors at the end of the short vignettes. Overwhelmingly, the wee ones select the "good" or "helpful" characters each time, showing that they already have an innate sense of moral right and wrong. According to Bloom:
Babies probably have no conscious access to moral notions, no idea why certain acts are good or bad. They respond on a gut level. Indeed, if you watch the older babies during the experiments, they don't act like impassive judges — they tend to smile and clap during good events and frown, shake their heads and look sad during the naughty events.
Do you believe that parents are the overwhelming influence in a child's ability to tell right from wrong, or are we born with it?