Teaching Children Independence
Tips to Raising Independent Children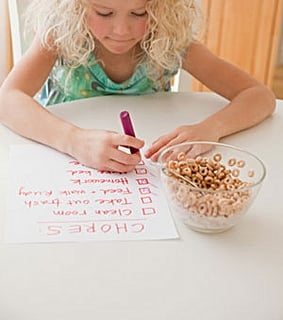 I liken newborns to birds because they often mimic their behavior at birth. As the mama bird, I feel it is my duty to give my lil chippers their wings to fly so they can become positive members of our society. A sense of independence gives a child confidence to conquer the world with a smile on his or her face. Instilling that virtue in a youngster is one of the best gifts a parent can give their offspring. No matter the parenting style, there are some simple daily steps that can be taken to foster a tot's independence.
When the child starts eating solid foods, allow them to feed themselves even if the floor becomes a Jackson Pollack masterpiece. What are mops and dust busters for?
Speaking of art, hand over the finger paints. Kids love to create something from nothing. If paints are too messy, try the bathtub version.
Let them be their own stylist. People may stare at your wee one's wardrobe choice and question mama's visual awareness, but babies get a kick out of dressing themselves. A trip to the grocery store as a Kung Fu fighter may give the tyke that needed boost.
To see the rest of my pointers, just
.
Hire them as a sous chef. If an ingredient needs stirring, give him the bowl and a spoon. The sense of accomplishment he will feel knowing he helped create the meal will be exciting. And maybe, just maybe, he'll start cooking for you!
Let her take a book to bed. After reading together, many parents turn off the light and seal the deal with a goodnight kiss. Leave a night-light on and let the wee one "read" on her own. She will feel empowered and her love for reading will continue to grow.
Stock up on puzzles. Fantastic for problem solving skills, when the youngster starts to match the pieces on her own, her pride will shine through and have her begging for more.
Get them their own library card. Kiddos will relish the responsibility and many libraries don't charge late fees on a child's account.
Give them responsibilities like cleaning the bedroom, putting toys away, washing dishes or taking out trash. Some families keep track of such duties on a board and reward their rascals at the end of each week.