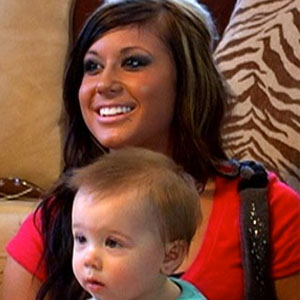 Is the fame and fortune of being one of MTV's Teen Moms leading to accidentally-on-purpose pregnancies? It certainly looks like it. Jenelle Evans (mom to Jace), who is featured in this season's show, has three friends who are moms-to-be. Fellow spotlit teen Chelsea Houska's roommate Megan Nelson (who helps care for Houska's daughter Aubree) is also expecting. According to In Touch Weekly:

Although Keely Sanders, Amber Painter and Lauren Pruitt are said to have initially lectured against Evans becoming a teen mom, "I think all the girls idolized Jenelle," their friend Kristina Collins told In Touch. "Lauren has even mentioned how cool it would be if she got her own spinoff show." Nelson claims that her pregnancy was unplanned, but friends disagree. "[Megan] purposely got pregnant in order to become a regular on the show," one source said.
What's your opinion?
Photos copyright 2011 MTV