Teens Popularize a Dangerous New Way to Get Drunk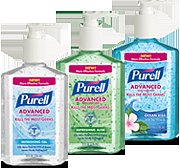 You probably knew to keep pills and supplements out of your kids' reach, but did you know that hand sanitizer is also a danger?
Public health officials are becoming increasingly concerned about a very dangerous trend that is emerging among teens. Since 2010, California has had 2600 reports of teens drinking hand sanitizer to get drunk. Six California teenagers were hospitalized last month alone for alcohol poisoning related to drinking hand sanitizer. This isn't just a problem in California either. Helen Arbogast, an injury prevention coordinator in the trauma program at Children's Hospital Los Angeles, told ABC News, "We see it in the South, in the Midwest, in the East."
Liquid hand sanitizer is 62 to 65 percent ethyl alcohol, the main ingrediant in beer, wine, and spirits. To compare, a bottle of vodka is only 40 percent. A few swallows is all you would need to feel the same effects of alcohol. Doctors warn that long-term use could lead to brain, liver, and kidney failure.
Arbogast says foam hand sanitizer is a safer option to keep around the house, but "any hand sanitizer will be at risk for alcohol poisoning, as the foam type is still 62 percent ethyl alcohol." Parents are being cautioned to treat hand sanitizers like any other medication, keep them out of reach of young children, and monitor their use around teens. Parents are also encouraged to be proactive about talking to their teens about substance abuse.
Read the full story at ABCNews.com.