Text and Tunes: The Red Balloon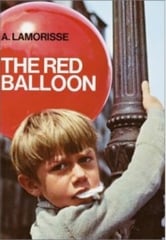 The Red Balloon ($17) is the picture book version of the 1956 children's short film, Le Ballon Rouge by Albert Lamorisse. The film, which received a Best Original screenplay Academy Award and the Palme d'Or for short films at Cannes, captures a 34-minute adventure of a small boy who happens upon a red balloon in Paris, France.
The book showcases stirring stills taken during the filming of the movie alongside the storyline told page-by-page. If you missed this lesser known classic when you were growing up you can watch part of the film below for a taste of the fantasy-fueled excursion.