Texts and Tunes: Captain Bogg and Salty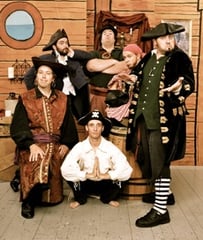 Ahoy, Matey! From time to time tots become obsessed with characters and themes whether their parents like it or not. If pirates fit your child's fancy before long your home is overrun with bandanas, eye patches and even toy parrots to perch on their shoulders.
Indulge your lil Blackbeard with the songs of Captain Bogg and Salty, the Portland, OR based band that mixes pop sounds with pirate themes to put out tunes that the entire family can sing together. The five bandmates come from diverse backgrounds in musical theater, sketch comedy and children's theater making their live concerts and videos a change of pace from some of the acts you'll find on your iPod. The group describes their original songs as "pirate jigs, mermaid lullabies, and rock chanteys," and they make the perfect accompaniment to your junior Captain Hook's exploits around the house. The band is currently touring the country appearing at children's theaters, so be sure to check their schedule for any appearances close to your shore.