Texts and Tunes: Justin Roberts Hits a Pop Fly with Latest CD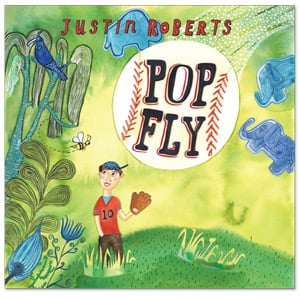 I admit it, I blasted a kiddie CD in my car today when my son and daughter weren't with me. There's something about Justin Roberts's latest release Pop Fly ($15) that reminds me of attending a Ben Folds Five concert in college. The "Brick" group disbanded in 2000, but I've still got my t-shirt and now some cool tracks from a tot rocker that forces my fingers to keep hitting repeat while driving.
Justin manages to combine the whimsical, hilarious and sentimental aspects of childhood into a CD that motivates children to dance and allows adults to relax. The singer's sixth release has eleven songs from "She Sits" about a babysitter who sits and sits and sits and gets paid to "Stay-At-Home-Dad" which celebrates men who are the primary caretakers of their tykes. But, "From Scratch," a track about a kid waiting while his grandmother cooks on an "old treasure trove that she lights with a match" is sweet nostalgia.