Texts and Tunes: Sandra Boynton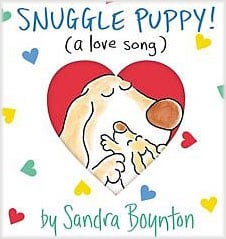 I can't get enough of Sandra Boynton. In addition to her books being silly and insanely creative, they are great bait to get your babe hooked on reading. She may not learn the ABCs from Snuggle Puppy, but she will learn to love the ritual of reading it with you, which is a first step to reading.
Each board book is short and sweet — easy enough to read five of them before bedtime. Once you read one, you'll want to run out and buy the rest. And before you know it, you'll have the whole Boynton collection memorized. It's amazing how many of my father friends can, and will, sing parts of Snuggle Puppy on demand. "Ooooh Sandra Boyton of mine, every book by you is especially fine!"