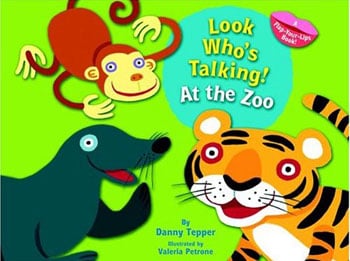 In honor of National Zoo Day, we want to share some of our favorite zoo books with you.
Look Who's Talking! At the Zoo by Danny Tepper is a colorful pop up book that is sure to have your lil one cheering for more. The mouths of the animals are cut out allowing you to bark and howl like the furry beings themselves. Your babe will love watching you bring the pages to life.
A delightful book by Peggy Rathmann, Good Night Gorilla is about a tired zoo keeper who tucks all of his zoo friends away for the night only to be followed home by every single one of them. The book is celebrated for the illustrations as much as the text. And, you can buy the sweet book in Spanish, Buenas Noches Gorilla, too.
For the older child, Zoo in the Sky is a fantastic book to introduce your kiddo to constellations. They'll be fascinated to know that animals don't just live in the zoo, but also in the heavens. Pretty soon your tots will be staring up in space in search of lions and horses at bedtime.