Thank You Note iPhone App
iGiftThanks App: Kid Friendly or Are You Kidding?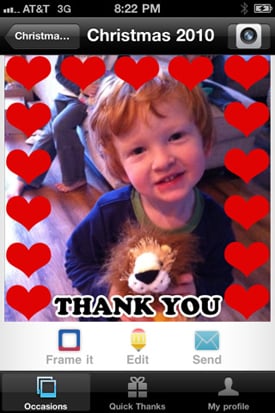 Thank-you notes are a necessary evil. No one actually enjoys writing them, but they need to be done. Most readers agree that a new mama deserves an extended time frame for sending hers out, what about an iPhone app that sends them out electronically?
iGiftThanks ($1) gives parents the option of thanking friends and family for a gift by taking a photo, dressing it up with pre-styled frames and "stickers," and then either sending it via email or posting it on their Facebook or Twitter page. The app allows users to classify gifts by occasion and keeps track of notes that have been sent. Should the electronic thank-you take the place of the traditional handwritten one?