Thanksgiving Baby Foods
Turkey and All the Thanksgiving Fixings Baby Style!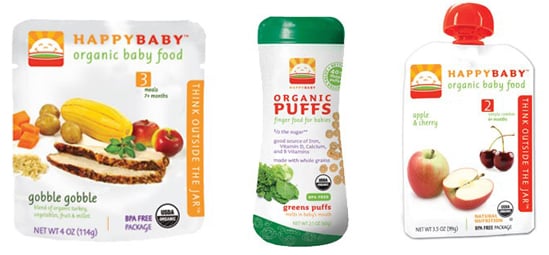 Mama won't have to stand over a hot stove to serve her babe Thanksgiving dinner! Happy Baby's organic line of baby food has turkey and all the delicious Fall fixings cooked, pureed, and ready to travel in sealed pouches. While their gobble gobble entree ($1) combines the protein with fruit, vegetables, and millet, a wee one can also crunch on green puffs ($3) made from organic grains, collard greens, and kale as a car snack.
If you'd like to cater your Thanksgiving meal to tots with more advanced tastes and teeth, Catherine McCord offers family friendly recipes for everything from mascarpone mashed potatoes to cornbread cranberry stuffing and green bean casserole to sweet potato biscuits over at Weelicious! Once the meal is ready, have your children sit down and enjoy it at a kiddie table!