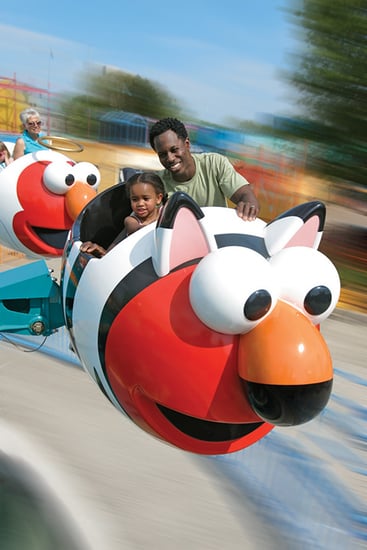 An amusement park for parents and children? Take me to it! Whether your child watches Sesame Street religiously or is a casual viewer, Sesame Place is destination for families looking for adventure this summer.
Located about 30 miles north of Philadelphia, the park features more than 30 attractions, including a dozen water rides, three live shows (including a live production of Elmo's World), daily parades and visits from the entire Sesame crew. Unlike other parks we have reviewed, Sesame Place is designed for the seven and under crowd, meaning even toddlers are welcome on most rides.
To see what makes Sesame Place special,
.
Inspired by the show's characters, there are kiddie versions of the traditional pirate ship ride, an airplane ride, a brand new carousel, a simulated hot air balloon and the requisite tea cups.
But, he real action is over at the water rides, where you can take a leisurely inner-tube ride down Big Bird's 1,000 foot Rambling River or swiftly glide though a system of water slides on a large raft with up to six of your nearest and dearest friends on the Sky Splash.
The highlight of the trip for most visitors is the interaction with the Sesame characters. Throughout the day, the monsters wander around posing for pictures, giving out hugs and putting smiles small faces.
The park is clean, smoke-free and of a manageable size. Bathrooms, with multiple changing tables, can be found throughout the park, and rarely have lines. The only downside of the park is their ticket policy, which requires all visitors over the age of 2 (adults and children) to pay the full ticket price of $48 per person.