Thermometer That Shows What Clothes to Wear
What to Wear Weather Thermometer: Ga Ga or Gag?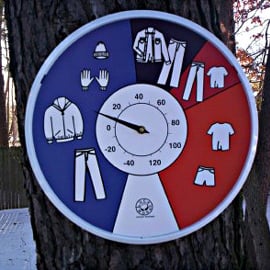 Especially during colder months when the heater is on full blast, it can be a difficult and exhausting battle to help your kids make appropriate clothing choices. Have your lil ones resisted putting on an additional layer of long underwear only to complain later about being cold? The Apparel Indicating Weather Thermometer ($21) is geared toward kids to help them learn how to read a thermometer and dress accordingly.
The dial features large, colorful pictures indicating the appropriate clothing to wear for the corresponding temperature. There are three regional face options, so whether you live in the north with colder weather, the south with hotter weather, or somewhere in between, you can help your kids make the right clothing choices. Do you love this thermometer or do you think it's unnecessary?