Thule Chariot CX2 Review
The Best (and Most Fun!) Way to Drop Baby Weight
Fitting in exercise to battle the baby weight is hard enough after your first pregnancy, but once number two comes along, it can be downright impossible. Whether you have a hard time leaving your little ones or can't find care for them, the best way to burn some calories while also entertaining your kids is to pop them in a double stroller.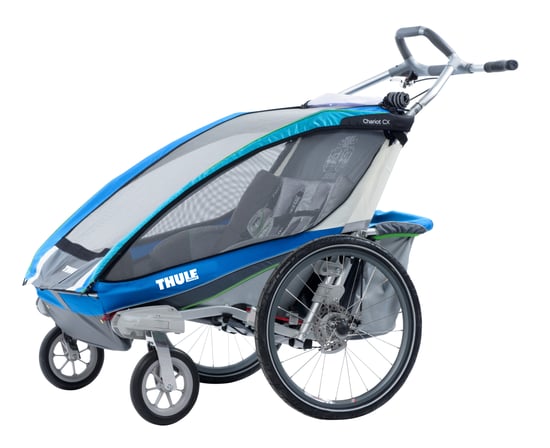 This Thule Chariot CX2 ($1,150) is nothing short of amazing. Not only does it act as a regular double stroller (it comes with a stroller kit attachment shown above), but you can get other kits that allow you to bike ($80), jog ($130, shown below on the CX single stroller), and hike or ski ($285) with your kids. Pricey yes, but worth it if you're an active and outdoorsy person who wants to enjoy her favorite hobbies with the fam.
Say you're going for a walk with the kids and you meet up with your friend taking her kiddo for a jog. You can easily click out the stroller wheels and click in the one large, fixed jogging wheel (which stores in the back of the stroller), and off you go! The hand brake makes you feel totally in control when going down hills with your 40-plus-pound load, and the huge compartment attached in the back is handy for storing diapers, wipes, water bottles, snacks, and extra clothes, and there's still tons of extra room for more. There are also little side compartments inside so your kids can access their own snacks or cups when they want.
One of the best features is the built-in sunshade that can cover the top half of the stroller to keep the sun out of your little ones' eyes or be rolled back on cloudier days. There's also a second built-in cover that shields the entire stroller and clips in place for protection from the wind, rain, and cold. If your kids need a breeze, just unzip the waterproof layer, and there's a mesh layer to keep out bugs and debris. The tinted windows on the sides allow your kids to be entertained by passing dogs and cars, and the two five-point harness straps will keep each child safely on his or her side, which means you won't have to interrupt your run to break up a fight about who's tushy is taking up too much space.
I have a BOB Revolution to compare the CX2 to and although it's much harder pushing double the kids around (talk about a hardcore workout!), this stroller has amazing maneuverability. The ride is smooth, the shocks make it less bumpy for the kiddos (even on dirt trails), and although it's twice as wide, I can still push it with one hand. The handlebar has an extra bar attachment in the middle, which is great for cruising on flat roads, and you can switch to the side handlebars when you need more control heading downhill.
The best part about this stroller is that the kiddos are so happy. They have each other to keep them company, and the whirring scenery going by has an amazing calming effect, for all of us. This double stroller has become our home away from home, and it allows me to exercise with my kids, which has not only helped me get back into shape, but now the kids know that exercise is a part of everyone's healthy life.
Since kiddos aren't exactly the cheapest investment, if this seems way too steep to purchase, you can go for a more basic model, the Thule Chariot Cheetah 2 ($550). It has fewer bells and whistles, but will still allow you to get outside and move with your two kids.