Tips For Clean Eating
5 Ways to "Clean Up" Your Family's Food Habits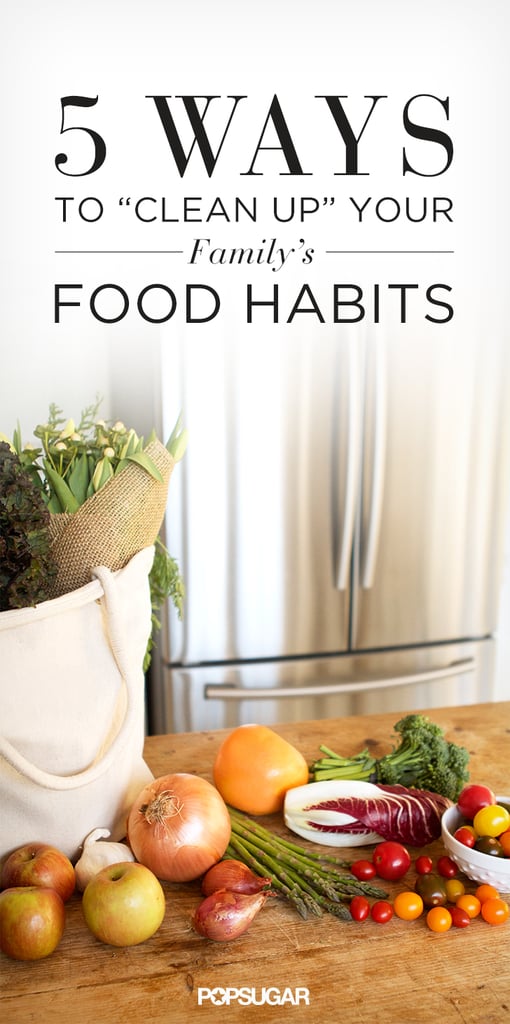 Growing up, my family's New Year's resolutions always revolved around healthier eating. Usually, that meant following whatever diet our doctor deemed the best at the time. We'd start off strong, but by the end of the month we'd be stuffing our faces with pasta (though, to be fair, that was a fairly normal occurrence in our Italian household.) As the new year approaches, your family may have a similar goal. But rather than eliminating foods or counting calories, why not take on the clean-eating lifestyle? Centered on the idea of consuming foods in their most natural state, clean eating prevents you from consuming excess calories, fats, and sugars without any real dietary restrictions. Sound good? Read on to learn how you and your family can embark on a healthier 2017.
Serve More Fruits and Vegetables
The easiest way to get your family on a cleaner path is to go green (or red, or orange, or yellow). Packed with vitamins and fiber, produce provides kids with the nutrients they need to grow strong and keeps them fuller for a longer period of time. Of course, children rarely reach for broccoli as an after-school snack, so you may have to sneak some greens into their favorite foods.
Eat Less Meat
While we love meat for its iron and protein (and, obviously, taste) certain cuts contain a lot of saturated fat — a big no-no for clean eating. Try going meatless a few nights a week, and substitute your steak for fish, beans, or tofu.
Give In to Whole Grains
A simple bread swamp can clean up your child's lunch. White bread lacks the nutrients that its whole-grain counterparts have to offer. If your child is hesitant to try whole-wheat bread because of the color or texture, try easing them into the transition by using a slice of each on their sandwich.
Remove Excess Sugars
Cutting out candy, cookies, and soda is a good start, but it takes a little more effort to eliminate extra sugar from your family's diet. When buying packaged foods, even the healthier ones like yogurt and tomato sauce, search the label for any of sugar's many pseudonyms. If it's listed near the bottom of the ingredient list (or better yet, not at all), then it's not prominent in the food. That being said, don't deprive your kids of all things sweet. A little treat every once in a while won't hurt them.
Avoid the Aisles
Here's a supermarket trick: the healthier items are placed on the perimeter of the store. Walk through the aisles, and you'll find packaged foods that are filled with excess sodium, sugar, and fat. Try to limit your shopping in this area, and when you do venture down these aisles, make sure to read the labels to pick your healthiest options.