Tips to Encourage Kids to Read
Put the Fun in Fundamental: 10 Tips to Help Foster a Lifelong Love of Reading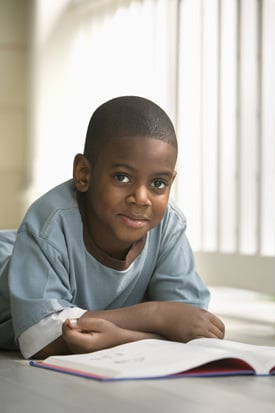 Some children seem to be born with an innate love of the written word; others need a gentle push toward the library. Trying to force kids to read — or do anything they're heartily resisting — is a frustrating experience for everyone. As important as parents know reading is, associating it with a negative, tension-filled exchange will only further tots' feeling that sitting down with a good book is some sort of punishment. Like doing chores and eating vegetables, settling in for solo story time needs to be enjoyable before it becomes habitual.
Encourage kids to crack the books without cracking the whip with these 10 tips.
Schedule regular checkups with the eye doctor. Kids can't read what they can't see!
Create a comfortable, cozy reading sanctuary free from distractions like TV and video games.
Get involved with your local library. They often have book groups and reading lists that can add a fun group dynamic to the otherwise solo activity.
Tots learn by example. Make sure your kids see you reading instead of vegging out in front of the TV.
Set aside a regular time every day for reading — even if it's just 10 minutes. Kids thrive on routine and will learn to look forward to the special quiet time.
Keep reading for the rest of our tips for creating a lil bookworm!
Even when not reading a book, do activities that involve reading — like cooking from a recipe or building a model plane using the directions.
Be patient! Speed reading is not the objective here. Allowing kids to read at their own no-pressure pace will keep the mood light.
Reading and writing go hand in hand. Encourage tots to journal and write stories and poems.
Turn off (or get rid of) the TV. Less TV time equals more reading time, and books look a lot more attractive when cartoons aren't even an option.
Little gold stars go a long way. Keep kids motivated and validated by keeping track of their progress.