Tips For Getting Your Toddler to Walk With You in Public
Got an Unruly Toddler Who Runs Like the Wind? Here's What to Do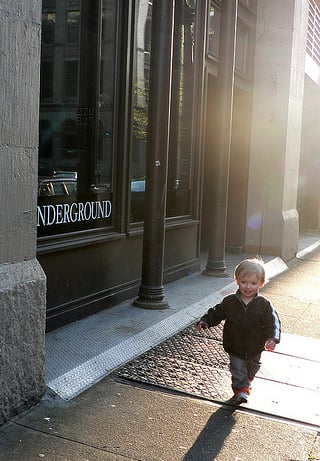 My nephew is as sweet as sweet can be. But, from the moment I take him outside to go for a walk, it's like chasing after an Olympic runner. I can't figure out how he can shift so quickly from being calm and collected to acting like someone who just escaped from a mental asylum.
I've learned that once kids begin to walk, they no longer want to feel the restrictions of a hand, a stroller, a harness, or anything else that undermines their new-found freedom. But because a parent's number-one priority is the safety of her child, it's often difficult to keep a toddler close and safe while still allowing them to roam free.
Be Clear About What You Want First things first, you should always stress to your child that they need to stay with you. Especially in crowded areas, where a child should be no more than three feet away from you. Every time you cross a street, hold hands, look both ways, and proceed to cross the street — explaining every time why it's important to do so. Eventually holding your hand will become second nature for your child.
Here are more helpful tips.
Get Creative Instead of a stroller, try pulling your child in a wagon, or something else that makes them feel unrestricted, but yet still keeps them within arm's reach to you. If your child refuses to listen and continues to disobey on each outing, as soon as the bad behavior occurs, go home immediately (if you can), end any fun activities, and put the child back in the stroller. Explain to him, that he will be able to walk on his own again if he follows the rules (again emphasizing safety concerns so he can connect the dots).
Taking the Harness Route And if you're still not making any progress, the next option is to try a harness. Parents have mixed feelings about harnesses, so it's something you'll need to decide if it makes sense for you and your child. Harness can be good because they still give your child freedom during their running-away phase (yes, thankfully it is just a phase) while still providing a decent level of safety for your little one.
Source: Flickr User mahalie