Tips For Hiring a Nanny
A Delicate Balance: Perfecting the Nanny-Employer Relationship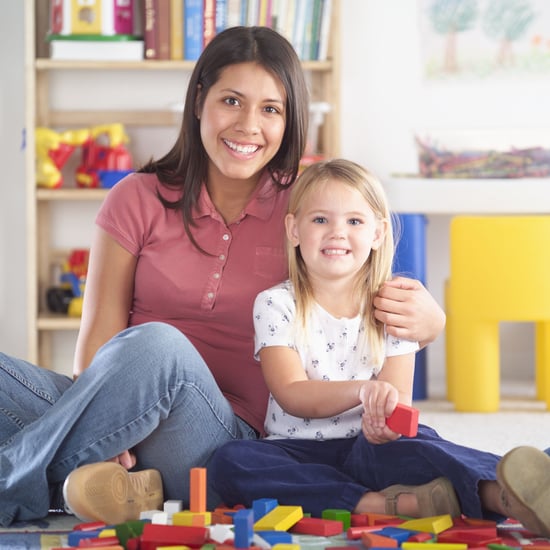 If you rely on a nanny to care for your kids during the workweek, then chances are you've dealt with a bevy of challenges along the way. From finding the perfect fit for your family to maintaining a relationship that works for you, the nanny, and your kids, to say it's a delicate balance is an understatement. While chatting with friends and family about their experiences and advice can be beneficial, it's not easy to find hard and fast rules for getting off to a great start — and continuing to nourish — the nanny-employer relationship.
Here are some tips and tricks from the 4,000-plus members of Park Slope Parents (a Brooklyn-based parenting network and resource) for ensuring that your kids are in great care and everyone involved is happy with the nanny dynamic in your household:
From the Start: Define Compensation and Job Responsibilities
Develop a work agreement that outlines the following: pay rates (both regular and overtime); paid time off (vacation, sick days, holidays); regular rate and overtime rate; termination issues (will you pay out unused sick days, vacation, etc.). If you have access to a lawyer through your network of family and friends, then it can't hurt to have them take a look at the document.
Lead an "orientation." Spend an adequate amount of time (at least a few hours) walking through the house with your new nanny. Go over both the basics (where things are kept, building rules, how keys work, etc.) and house rules and expectations. This is your time to be vocal about what you deem appropriate in terms of what the kids eat, what the nanny can eat, the amount and type of TV and music that you're comfortable with, and any other details. Be reasonable, but don't be shy.
Give your nanny vacation time of her own choosing. Two weeks is standard for a full-time nanny. Be sure to let her know how much advance notice you'll require now so that you don't get stuck with a last-minute scheduling conflict.
Guarantee pay. Pay on time, pay each week (beforehand if you'll be out of town) — no questions asked.
Continue reading for more guidelines to maintaining a positive nanny-employer relationship!
Once She's Gotten Started:
Stick to what you agreed upon. Don't change the job description after the fact by adding new small tasks without compensating for them. Doing children's laundry shouldn't morph into picking up things from the dry cleaners and tailors.
Be on time. If you're supposed to be home at 5 p.m., that doesn't mean 5:05 or 5:15. It's disrespectful and unfair to your nanny to be late. If you're running late, then let her know and compensate fairly.
Don't micromanage. Let her do the job she was hired for. This goes especially for stay-at-home and work-at-home parents.
Be realistic. If you can't get much done during the day with your kids, then don't expect that your nanny will be able to either.
Your nanny is not your housekeeper, so don't treat her like one. Don't demand heavy household chores to be done unless you've discussed this when you hired her and she's being compensated adequately. Unless the kids are at school all day, wouldn't you rather she be focused on them anyway?
Don't be a nanny broker. If you are going to be out of town, then don't pimp out your nanny. It may save you money, but more often than not, it leads to more headaches and bad feelings.
Give your nanny petty/emergency cash, and be clear on what it's to be used for. It's OK to ask where the money went, but don't expect an itemized accounting unless that's been agreed upon.

Be a Great Manager:

Create open lines of communication. Like with any job, periodic performance reviews will help this process, as will asking her opinion and respecting it.
Agree upon the best forms of communication for both of you. Texting may be good for you but inconvenient and unreliable for her. Establish what works, and stick to it.
Communicate about changes and transitions. Give your nanny a heads up in advance if you are going out of town, and keep her informed about any challenges or changes that your kids may be going through. Ask the same of her, as she may have insight to parts of your children's lives that you're not privy to.
Be courteous and considerate. Say hello in the morning and ask how she is rather than jumping into the tasks of the day. Offer her a cup of coffee or buy her lunch when she's not expecting it.
Respect your nanny's time. Be clear at the outset what the time commitments are, and stick to them.
Respect your nanny and the job she does. Treat her as a valuable employee. Taking care of kids requires time-management skills and a world of patience.
Remember that your nanny has her own life outside your home. She has her own family, her own interests, and her own boundaries. Respect those boundaries and don't push them. While you want to establish a meaningful connection, don't think of her as "part of the family." She's a trusted and valuable employee.
Keep the relationship on level playing ground. Keep roles clear, and work with your nanny in an atmosphere of mutual respect.
Support your nanny when there is conflict with the children. If you don't back up your nanny in front of the children, then it undermines her authority.
Keep your feelings in check. Having a nanny can bring up emotional issues for employers (e.g. being a "good parent," letting someone else "raise" your children). Be aware of those feelings, but don't let them impair your relationship with your nanny. She's just doing the job you hired her for, not trying to take over the role of mother.