Tips to Losing Baby Weight
Cut the Baby Fat! Three Tips From Postnatal Trainer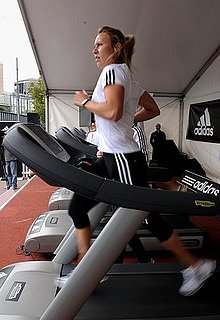 Motherhood happens! In January, I decided to take the FitSugar Challenge and vowed to lose 20 plus pounds by the end of the year and vlog through the process. But, like lots of other moms juggling a job, three kids, and a marriage, the first thing that fell off my to-do list was my own goal. Now my son is six months old, and my clothes still don't fit, but I've got hope.
Our friends at Equinox set me up with a postnatal certified trainer who is going to show me how I can shed these postpartum pounds in an attempt to get my pre-baby (or at least something that vaguely resembles it) back! And, because many mothers don't have time to hit the gym or the money to spend on a personal trainer, I'll be relaying my trainer's tips to you!
If a mother can commit to working out three times a week, Amy Fiske NSCA-Certified Personal Trainer, says there are three tips for prolonged weight loss and toning. She said:

Cardio that works in your training zone.
Lift weights or do body weight exercises for at least 30-60 minutes, include warm up, cool down, and stretch! Your metabolism stays working at a faster pace after lifting weights (more cals burnt).
Nutrition – maintain a healthy diet full of whole foods, don't eat all your calories for the day in one sitting, eat little and often to help maintain a stable metabolism, otherwise, the body will think it's starving and store any food which it's given.
Follow the Battle of the Baby Weight series here!