Tips For Moms on How to Prevent Weight Gain
Hey Mommas! Prevent Packing on the Pounds With These Tips
As a mother of a nine month old, I've been spending time with lots of mommas lately. I've found that besides chatting about diapers, teething, and lack of sleep, we all tend to mourn over the loss of our pre-pregnancy bods. Even if we did lose the baby weight in the beginning, our busy schedules make it hard to find time to exercise and eat right, so it seems inevitable to gain a pound here and there.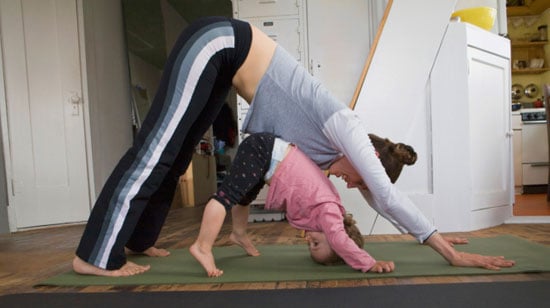 If this sounds familiar, I've put together some tips and reminders to help you get your body back (and keep it!).
Don't finish their meals or snacks. A few extra bites really add up so pack up the leftovers and save them for next time.
Don't eat just because they are. Kids are really active and since they're often too busy to sit down and enjoy a full meal, they end up eating little bits several times a day. That doesn't mean you should reach for a cereal bar too. Stick to your regular eating schedule to avoid consuming extra calories.
Don't use high calorie treats as rewards. You're more likely to end up rewarding yourself as well.
For more tips on avoiding mommy weight gain keep reading.
Include your kiddos in your exercise. Don't use the fact that you're taking care of your kids as an excuse not to be able to fit in a sweat session. If you can't sneak away on your own, bring your tikes along! Pop them in a stroller and go for a jog, take them on a hike (use a carrier if they're too young to walk), roll out your mat and do some yoga poses together, or strap them behind you in a bike trailer. The time will fly by with the company, and you're teaching your tots that exercise is an important part of life.
Do a little meal planning. Busy moms may end up hitting fast food joints for convenience, so to avoid grabbing the quickest (and often not healthiest) foods, take time out of the week to prep some healthy meals and snacks. On Sundays, I wash then cut fruits and veggies to store in the fridge, prepare a big bowl of salad for the week, and put healthy snacks like whole grain crackers and trail mix in baggies — for both my daughter and myself.
Make your health a priority. You take impeccable care of your kids, so give yourself the same attention. After all, you need to be in tip-top shape in order to keep taking such good care of them. Arrange some time away each week to jump over to a spin class, take a swim, go for a peaceful walk, or hit the grocery store alone so you can take your time in choosing healthy foods.