Tips For New Moms
Been There Done That: 6 Tips For New Moms From One That Was Just There
We're excited to share this post from our partners at BabyCenter! Every week, we will be bringing you the best parenting and lifestyle stories from the experts over on BabyCenter, including this post from Sabrina Garibian about her tips for other new moms!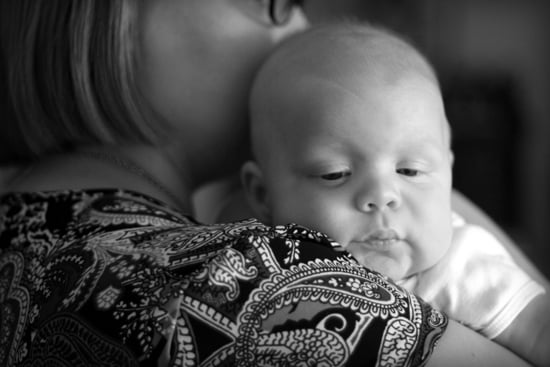 Now that my son is almost a month old, I feel like I can share mom advice.
Ha. That's a joke. I still don't know what I'm doing. I'm like a camel in an ocean just trying to survive. And sleep deprivation makes you think of weird analogies like that.
Related: 7 Bad Excuses For Neglecting "Me" Time
Anyway, we did survive the very difficult first two weeks well. Of course, there is the standard advice of sleep when the baby sleeps and so on, but I have some even more practical tips for the new moms who might need a little help just surviving. Here they are:
Go paper. For the first two weeks use paper plates and plastic cups and silverware. It felt very wasteful to me to do that, but it was also a lifesaver. Just finding the time to heat up a meal was difficult in itself. The dishes would never have gotten done had we used them.
Use straws. If you plan on nursing, you won't have free hands available for drinking, yet you'll be very thirsty. Fill up a few cups of water for your nursing station and use a straw to drink up.
Take advantage of Diapers.com. Their shipping policies are incredible, and you will get anything you need within a day or two. I placed three or four orders for random items in the first two weeks and was so thankful to wake up the following morning to a package.
Hire a lactation consultant before you have issues. This is for the breastfeeding moms. I had a lactation consultant come three days after we came home from the hospital. It was a great decision as she helped me fine tune our technique. Breastfeeding is going really well (aside from an oversupply issue), and I have that early visit to thank.
Plan meals. We only had a few freezer meals at our disposal, and I wish I had made more. You will not find time to cook unless you are supermom.
Don't cut your hair. This might seem silly, but it was a crucial mistake I made. I have this one piece of shorter hair in the front that keeps falling into my face at the most inopportune times. Until I could figure out how to juggle a baby in my hand and doing something else, I had to deal with hair in my eyes. Don't make the same mistake I did.
What tips do you have to add?
More great stories from BabyCenter.com:
Finding time for my second child
7 easy Halloween treats for kids
Should you take your kids to an ultrasound?
7 tips for great newborn pictures
Source: Flickr User kevinphaines