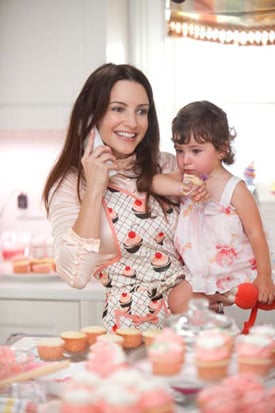 If the Goldenblatt girls' shared room from Sex and the City 2 has inspired you to change your children's lair, we've got tips for the transition! You don't need Charlotte's Park Avenue bank account to achieve the sophisticated, yet lived in look. When we chatted with the movie's set designer, Lydia Marks, she gave us tricks for achieving the look on a more realistic budget.
According to Marks, mixing high and low design objects is easy on the wallet and makes a bold impression. She also recommends:
Create grouped displays. "Display pieces, even if they're toys or some inexpensive dollar store [item], if they have a great shape or a fun color and you can group like objects together. A lot of what we did on the shelves wasn't from high end stores, it was from really great shapes and pieces and figures, and it tends to work really nicely in a kid's room."
Search your home for treasures you may already own. "Mixing the new with the old works really well in a kid's room."
Look beyond traditional children's stores. "I like using light fixtures that aren't usually meant for children. Whether that's a little chandelier on a small scale, or a funky lamp. It's fun to mix in pieces like that including an area rug – or a Tibetan rug with great colors – it doesn't have to be made for children. I think that really helps to make the room more sophisticated, but still work within a color palette."
For more SATC design inspiration, check out CasaSugar's coverage of the decor throughout the film.
Photo courtesy of: Warner Bros.