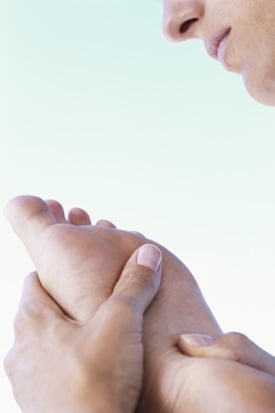 Oh, when ankles become cankles. Third-trimester swelling of calves, ankles, and feet is common even for women who are experiencing easy pregnancies. The pressure of added baby weight, the shifting of an expectant mama's center of gravity, and hormones that cause additional fluid retention can add up to uncomfortable swollen limbs.
Though some swelling happens regardless of what a woman does, there are easy ways to relieve the discomfort. After making sure she isn't showing any additional signs of preeclampsia or pitted edema, here are some tips for reducing the common pregnancy side effect.
Keep those feet up. Sit down and elevate your feet – above your heart if possible – for 10 to 15 minute intervals throughout the day.
Don't sit for too long. Keeping off your feet is helpful, but staying seated for more than one to two hours decreases blood circulation. If necessary, take a quick five minute walk to pump up your heart rate.
Don't cross your legs. When sitting, uncross your legs and rotate your ankles to keep the blood flowing easily.

To see the rest of the list,

.

Wear loose shoes. Consider giving the Louboutins a rest and opt for sandals, slippers, and sneakers.
Watch your salt intake. In addition to removing table salt from your diet, keep sodium-rich foods like pickles, chips, pretzels, bacon, frozen foods, and certain cheeses off your menu.
Increase your water intake. Drink at least eight glasses of water a day, with 10 being your goal.
Support your stems. Compression hose help keep blood from settling into the lower extremities, reducing swelling.
Keep left. Sleep on your left side to aid your heart in circulating blood as efficiently as possible.