Toddler Meets Dolphin With Prosthetic Tail
Tail-Less Dolphin Inspires Toddler With No Feet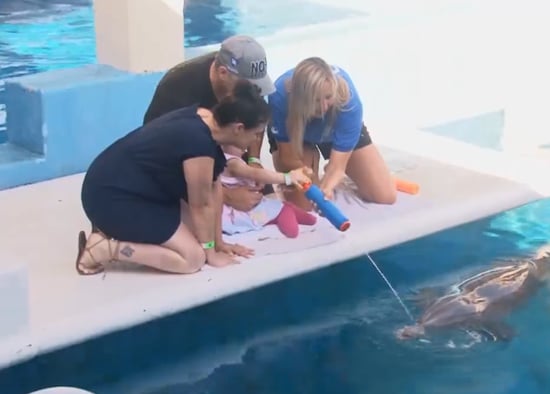 Although 2-year-old Ireland Nugent may not get to the theaters much, she's recently become infatuated with a movie star — Winter, the dolphin who lost her tail in a crab trap and inspired the movie Dolphin Tale. The two recently got to shake hands (and flippers) as part of a lesson in perseverance at Florida's Clearwater Marine Aquarium, USA Today reports.
In April, Ireland was running in her parents' yard while her dad was getting ready to park his riding lawnmower after cutting the grass at their home. Ireland's mom, Nicole, tried to warn her husband that their daughter was behind him. But he misinterpreted her signals as a warning that he was about to drive over something and put the mower in reverse, running over the girl.
Both of Ireland's feet had to be amputated. And while recuperating at the hospital, someone gave her a stuffed toy of Winter.
"Winter's prosthetic tail taught [Ireland] more about what she would go through," mom Nicole explains. So the family jumped at the opportunity to meet Winter in person. "To see Winter without her tail and see that she has such a vibrant life, can play, whistle and you can play games with her, really lets her know she can still do the same things," Nicole says. She adds that Winter makes Ireland smile and lets her daughter know she can have a productive life even without her limbs. In fact, the entire family, was inspired to "keep on swimming," she says.