Top 10: Funny Quotes from Our Toddlers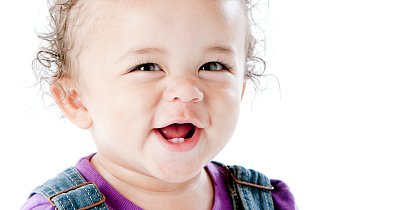 As toddlers begin to speak and interact more with their surroundings, the words that come from their mouths can be hilarious. We've surveyed Circle of Moms members for the funniest thing they've heard from the mouths of their babes, and we're cracking up over the responses. Below are 10 of our favorites...enjoy!
"When my 4 year-old was younger and learning his body parts he would call his elbow his ELMO, it was sooo cute that I never corrected him so now we all call our elbows our elmo's... even my fiance slipped [and] told me 'today at work I hit [and] bruised my elmo.' Very cute!" -Bec P.

"He says I wanna go beep. Instead of 'sleep.'" -Lisa F.

"I definitely taught my 16 month old son how to yell 'SPARTAAAA!' dramatically with one fist to the sky...The best part of his newly discovered word is when he decides to scream it during 'Mail Time' on Blue's Clues, lol, good times." -Sarah M.

"My 2 and 1/2 year old goes outside everyday and says, 'Hmm, sky turned the light on.'" -Rebecca B.

"She calls everyone 'Bob.'  It doesn't matter if they are male, female, old, young, if she knows them or not. Everyone's name is Bob!" -Ranaye G.

"My child says 'pee cream' often, meaning 'ice cream!'"-Shalaina

"My one twin says vaccuum all the time fine and good but his v sounds like a F and forgets to finish it with a M."-Olga K.

"He says 'I sowee' for I'm sorry, which we were working on when he hits or takes something that isn't his, but now he says it whenever he has a negative emotion (because it usually upset him to have to say sorry). So he'll be throwing a tantrum and screaming 'I Sowee!!!' at the top of his lungs. Or he falls down and says 'I sowee.' So sad, but in a cute way. :)" -Shandra S.

"My daughter Alivia who is 2 calls a fork a 'dork.'" -Elizabeth H.

"My two year-old son the other day got a 'booby:' booboo + ouchie = booby." -Corin V.
Click here to share your toddler's funny words and phrases, and vote on your favorites!