Top 10 iPhone Apps for Moms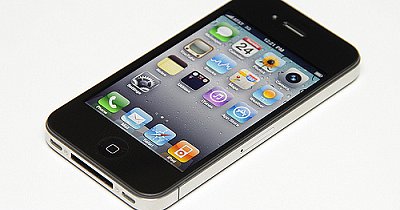 Angry Birds may be an incredible doctor's office distraction, but kid-friendly games are hardly the only iPhone apps that moms depend on. Whether you're looking to lose the baby weight, simplify grocery shopping, or make a mid-movie pee-run without missing a key scene, these mom-recommended iPhone apps, many of them free, are indispensable.
1. Cozi Family Organizer (Free, $5.99 for ad-free version)
Get organized with Cozi's color-coded calendars, grocery lists, to-do lists and family journal. Paige K. shares:  "With a blended family of 5 kids schedules and 2 parents with multiple jobs, it has been a lifesaver. I can set each one's schedule AND have reminders sent via text message so we don't inadvertently miss an event or appointment."

Runner up for organizational apps: Intuition
2. Lose It! (Free)
Need help losing the baby weight? "Loseit app helped me lose 50 pounds," says mom Heather N.  She's not alone—the average user of this diet and fitness-tracking app has lost at least 12 pounds.
Runner up for weight loss apps: MyFitnessPal
3. Period Tracker (Lite, Free; Deluxe, $1.99)
Whether you're trying to conceive or just don't like surprises, Period Tracker makes tracking your cycle a breeze. See your predicted start days, ovulation days and fertile days at a glance, and log symptoms and moods with the notes feature.
Runner up for cycle-tracking apps: Fertility Friend
4. Grocery IQ (Free)
Moms go gaga over many grocery apps, but Grocery IQ is a particular favorite. Synchronize the family's phones to a single grocery list, scan barcodes to add items, add coupons to loyalty cards, sort by aisle, and more. Jennifer  M. raves: "Grocery IQ rocks!!!"
Runners up for shopping apps: Our Groceries and Cardstar
5. Child Page (Free)
We're admittedly a little biased since we created this app here at Circle of Moms, but Child Page is truly a great way to record special moments in your child's life—as spontaneously as they happen. We use it for milestones, funny quotes, and photos, and especially love that we can instantly share these moments with friends and family through email, Facebook, and Twitter, and control who sees what. Circle of Moms member Lori Dillman says, "I love Circle of Moms on my computer and love it even more on my iPhone."
6. RunPee (Free)
Thanks to RunPee, you'll never miss a critical movie scene as a result of a busy bladder again! Sarah H. explains: "It tells you the certain times and scenes of the movie that would be 'safe' to run to the restroom if you need to without missing important scenes! It's really cool especially for pregnant moms and parents with kids that have to unexpectedly 'go'. ;)" Timers can even alert you when a pee time is coming up.

7. Sex Offenders Search ($3.99)
Updated daily, this app contains data on registered sex offenders located in the United States. Search by name, address and zip code, or activate your phone's GPS to search near your current location. As Sarah S. explains: "It uses GPS to locate where you are and where all the sex offenders live around you. Plus a photo, description and what they were charged with. Creepy, but nice to have."
Runners up for bathroom apps: Have2P and Sit or Squat
8. Allrecipes.com Dinner Spinner (Free)
Looking to pull together a meal in 20 minutes with what's already in your fridge? Dinner Spinner lets you search thousands of recipes by ingredient, dish type and preparation time, plus view photos and reviews. Sendy T. raves:  "I can put in an ingredient and it pulls up recipes with it in it..I love it."
Runners up for cooking apps: Martha Stewart Makes Cookies/Martha's Everyday Food: Fresh & Easy Recipes

9. Total Baby ($4.99)
Moms like Ellen D. swear by this all-in-one baby tracking tool: "TB helps me keep track of feedings, diapers, sleep, as well as measurements and vaccinations." You can also log milestones, doctor's visits, allergies and more.
 
Runner up for baby info tracking apps: Similac Strong Moms Baby Journal

10. Family Tracker by Life360 (Free)
By using GPS to locate your family's phones, Family Tracker lets you see your kids' real-time locations, view nearby threats and safety resources, and send a one-click panic alert to family in emergencies.
Runner up for location tracking apps: Loopt
Do you have any favorites that we missed? Let us know in the comments below.