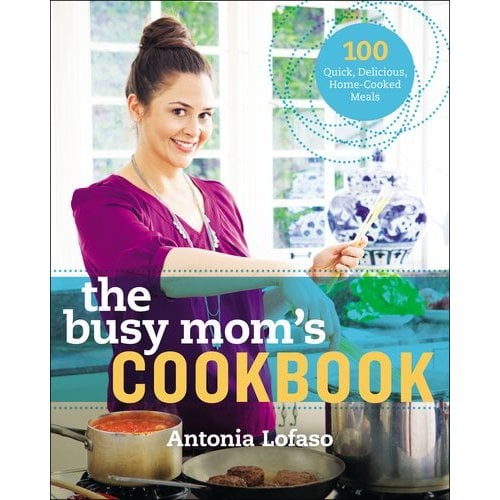 Fans of Top Chef will remember Antonia Lofaso as the laid-back and likable single mom from season four who made a return appearance on Top Chef All-Stars, where she competed in the finals. We were recently invited to celebrate the launch of Antonia's The Busy Mom's Cookbook (it hits bookshelves on Aug. 2, but you can pre-order on Amazon.com now), where she demonstrated four seasons' worth of recipes, sharing personal anecdotes and helpful, practical tips along the way.
Antonia's cookbook, which is divided into categories like "The Better Brown Bag," "Sunday Dinner," and "Kids in the Kitchen," is filled with practical, yummy recipes that your kids will actually eat, with sidebars featuring handy pointers. Here, check out Antonia's 7 Rules For the Busy Mom's Kitchen:
Start off small. If you cook only on Thanksgiving and Christmas and your culinary contribution usually consists of opening a can of biscuits, then don't wake up the day after you get The Busy Mom's Cookbook and try to commit to a month of homemade meals. After a week or so of trying a new dish each day, you'd be ready to practice everything you learned in your kickboxing class on the next person who asked you what you're making for dinner. Start off with one extra home-cooked meal the first week. Next week, plan for two more than you'd usually make, and build from there. It gets easier with practice. Seriously.
Speaking of planning . . . Plan your menu a week or two ahead of time. If you waited until the day of your daughter's soccer game to figure out how she'd get there, then you'd probably end up with an unhappy kid on your hands, plus more chaos than necessary. Planning your schedule in advance makes life easier, gives kids a sense of stability, and preserves your sanity. So does planning meals. The Busy Mom's Cookbook will give you some ideas to make it easier to step back, take a deep breath, and plan it all out.
Expect plans to change. Kids get sick. Bosses ask us to stay at work an extra hour. Babysitters cancel at the last minute. It happens to the best of us. Be flexible, and roll with it.
Click here for the rest of Antonia's tips!
Sometimes you just have to serve the kids hot dogs, Stouffer's french bread pizza, or frozen waffles. I do! I grew up eating that stuff once in a while, and I like it once in a while. You don't have to choose between feeding your kids and having a life. You're teaching your kids healthy living habits: everything in moderation.
Let the kids in the kitchen — girls and boys. Instead of wasting time and energy chasing them out, let them come in and peel a carrot or two. They'll feel like they've accomplished something, and they'll learn new skills, meaning they can help you more as they grow. The best part: you get to spend a few minutes talking with them without once saying "do your homework," "make your bed," or "quit hitting your sister." Don't worry. There'll be plenty of time to nag later.
Use the 15/15 Rule. When there just doesn't seem to be enough time, spend 15 minutes in the kitchen preparing a meal with your child and spend 15 more seated at the table, sharing your meal. Take the time to look into his eyes and ask him about his day. Get as much quality as you can out of it. Homework, the laundry, email, and the season finale of whatever you're recording can wait for 15 minutes.
Enjoy! It's just food. I wrote this book to make life easier, not more complicated. I've included the full range of recipes — from fast and healthful meals both you and the kids will enjoy to slightly more involved recipes you can make for special occasions. They're recipes for real moms with real lives. No pressure.