Top Chef Baby Food Challenge
Bravo's Top Chefs Create Baby Food Fare!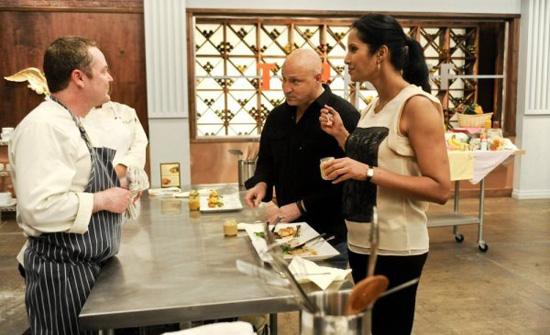 It was a battle of the baby purees on Top Chef: DC last night. Hosts Tom Colicchio and Padma Lakshmi used their offspring as inspiration for the opening Quickfire challenge. The competing chefs were given 45 minutes to create an appetizing dish for adults than can also be pureed for lil ones. Though some of the chefs balked at the idea of using their culinary training to make first foods, the results rivaled the items we commonly see in jars.
Tamesha's salmon with vegetable chowder, lobster stock, Thai basil, and licorice oil and Kenny's curried chicken, mango salad, confit of butternut squash, and Maitake mushrooms took the top prize for their overall textures and unique tastes. Take a look at all the entrees and let us know which one you would like to try out on your child!
Photo courtesy of Bravo
To see all of the contestant's creations,
.