Tori Spelling's Moms' Night Out
Tori Spelling's Kids-Free Evening Turns Into a Night of Debauchery!
We're excited to bring you a new post from mother and actress Tori Spelling! Every other week, we bring you the best parenting and lifestyle advice from ediTORIal by Tori Spelling, Tori's daily blog about everything from food and fashion to parenting and relationships. This week, Tori shares the hilarious tale of her child-free night on the town.

Hello, my name is Tori, and I'm a Kid-a-holic. It's true. I have real issues leaving my kids. Because of my issues, Dean and I rarely go to parties, dinners, a date, or anything adult-driven. Seems that if there's not a kid's menu, I'm not interested.
But, it didn't start out that way. Before we had kids, we lit up the town. Social card filled nightly. I swore up and down that kids wouldn't change us. That we would be awesome parents but still take time for ourselves to have adult fun time. And then came Liam. And, then Stella. Hattie and then Finn. We haven't been out without our kids past 7 p.m. in probably two years! No joke.
Related: Mad Hattie's Tea Party — The Decor!
So, when my good friend Jess's wedding invite arrived in the mail, I started to sweat. I love Jess, but not only was it an adults-only wedding, but (gulp) it was also out of town. The wedding was just in Santa Barbara, which is an hour from us, but how would this affect the kids, aka me! I immediately started looking into multiple rooms at the hotel. In my head I quickly got a game plan in place . . . a sitter could hang with the kids in the hotel room while we attended the wedding, right? It could work! That's when Dean took my hands, wiped my sweat-speckled brow, and suggested we have a much-needed adult-only night away. What?? No chicken fingers? No SpongeBob? No "Wipe me I poo'd"? Hmmm . . . That sounded terrifying!! The quiet alone would probably send me off the deep end.
Four constant offspring voices is like white noise to me. It's my comfy zone. But, after two years of back-to-back pregnancies and four beautiful but loud babes later, my husband and I probably could use a night to ourselves. I agreed, and we booked one room with a king-size bed. We would celebrate my friend and have a romantic night all in one. The day of the wedding, I nervously packed my weekender bag. It seemed empty void of pacifiers, Blankees, sippy cups, and diaper cream. So I distracted myself by planning a night of sheer vintage glamour. I picked an exceptional ensemble and packed it all up. Then I kissed all four kids and kissed all four kids and kissed all four kids. Liam, now the man of the house for "one night only," nervously laughed and finally said, "OK Mommmm," so I stopped the oversharing of affection and blew them a final kiss before leaving. I knew they'd be well taken care of but still had to throw in, "Call me if anything, I mean anything, at all goes wrong. I can be back in less than an hour!!!!" I clasped my hand over my mouth to hinder any further irrational babble. Even I realized I sounded desperate.
Keep reading to see how Tori handled her night out — the results may surprise you — and see more pics from the evening!
And so we left and began our journey up the coast. I had an hour to calm down and squash the hover mother voices in my head. Once at the resort, we decided to have a late lunch with two of our besties, James and Steven. But, I wasn't out of the danger zone yet. Sitting on the patio, staring at the ocean, dining on fish and chips and enjoying a glass of rosé, I was suddenly stricken by guilt. Not the guilt of being away from the kids, but, for the first time, guilt because I was actually enjoying myself. I told myself I deserved this moment and then we all cheered . . . To an adult night!
After lunch we all went back to our rooms to change for the wedding. I was amazed that I was ready with hair, makeup, and dressed in less than 20 minutes. We then gathered for the golf cart to take us to the bluff where Jess and her fiancé, Wolf, would be married. The ceremony was flawless. Simple yet supremely chic, and Jess looked radiant. She was in her element, and I loved watching her marry the man of her dreams.
After the ceremony, we headed to cocktail hour. As I entered the patio, I was promptly greeted by a silver tray filled with grand crystal goblets of wine. A sea of red and white. They seemed to taunt me as I calmly took a red wine, reminding myself that pacing oneself is everything and that I hadn't had much to drink in over two years. I sat down with "the boys" and Dean, and again we cheered. This was becoming a habit. I asked someone to snap a pic of me and Steven while uttering these words . . . "Tonight is going to be epic . . . " Half living in the moment and half self-fulfilling prophecy, we made our way into the dinner.
Jess and Wolf soon entered and sat at their sweetheart table, aka a two-top bride and groom table. We sat at a long, family-style table, and I soon found myself meeting all of Jess's childhood friends from Maryland among the stars and bistro lights. I also met a couple other moms who looked amazing, clearly finally having a moment to do their makeup and flat-iron their hair. We dined on an amazing steak and fish dinner and gulp . . . more red wine. I sat between Dean and my friend Chris, across from James and Steven, and was in my element. I texted home a few times to find the kids were . . . wait for it . . . totally fine without us. Having fun with Laura, who was caring for them and not missing us the slightest. I think that knowledge allowed me to let go. So, I put my phone away and let down my hair . . . literally.
Not gonna lie, the rest of the night is a blur. Key points I remember . . . Bustling Jess's dress so she could dance gangnam style on the dance floor with me, gossiping in a corner with a bunch of gals using phrases like "cray cray" and "shut the hell up!", smashing a floral arrangement in the middle of the dance floor just for the hell of it, lip locking with a fellow mom who never gets out and screaming, "Look! It's mom-on-mom action," and, finally, leaving the wedding hanging on to Jess's mom while sobbing that I love her daughter sooooooooo much. And, if that wasn't bad enough, it wasn't quite over. I puked. Not like politely kneeling and vomiting at the commode after feeling a tad queasy. I mean gut-wrenching chunks everywhere. Poor Dean. He didn't get his romantic night, but damn, I had fun!
The next morning, I felt absolutely horrible, and combing dried, red-wine-colored puke from my hair in the shower was a low point. But, sitting in that shower, I had a realization. Well, two realizations. One, I would never drink that much again. And, two, that I was proud of myself for letting go and allowing myself one night of debauchery. For most people, my night was probably relatively tame, but for me, it was "Moms Gone Wild!" When we arrived home, I hugged and kissed my babies like I hadn't seen them in . . . well, in almost a day. It was good to be home and back to being Mom. As I sat down on the couch to watch cartoons with them, I thought to myself, "Maybe last night wasn't as bad as I thought . . ." And then, I found my iPhone . . .
Here are a few pictures from Tori's picTORIal in order of occurrence of her "Moms Gone Wild" night: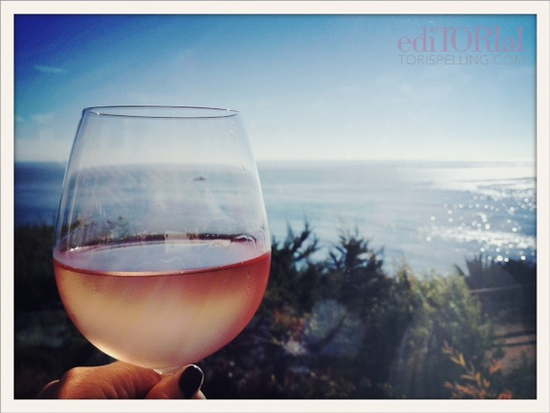 It all started so innocently. A mom getting a much-needed kid-free break . . . a toast to adulthood! A glass of rosé by the sea upon check-in at our hotel.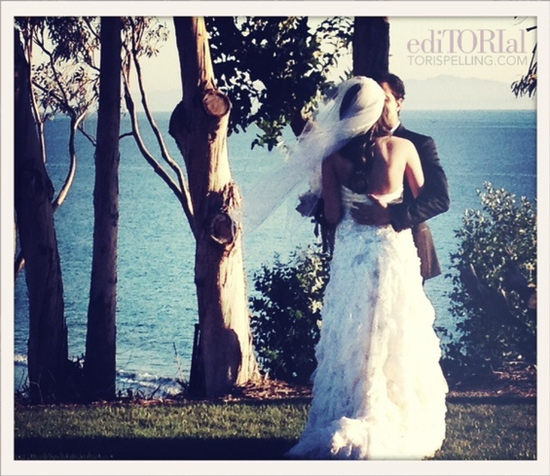 After the ceremony. I loved capturing this amazing moment.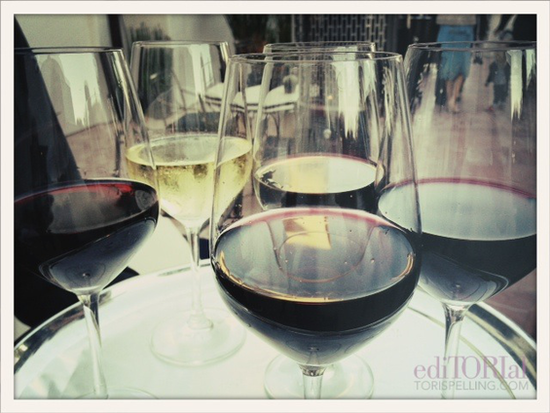 As I entered cocktail hour, I encountered a plethora of glasses. Red or white? In hindsight, I should have gone with white . . .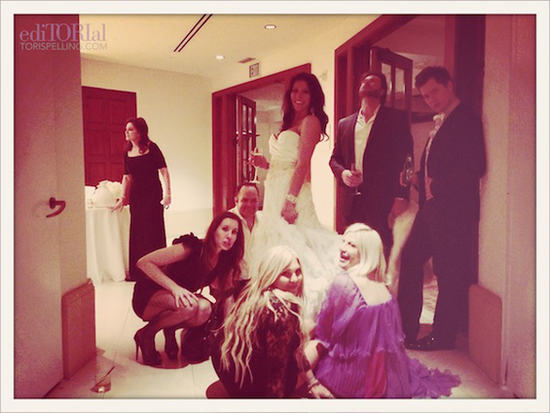 After dinner, the wedding planner in me insisted we bustle Jess's dress before hitting the dance floor.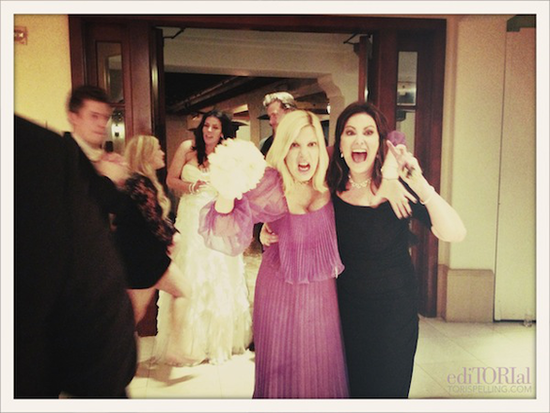 This is actually the pic that ended the night. That's Jess's mom I'm hanging on. Sorry, Jess!
More great reads from Tori Spelling:
Dean's Days With Finn
Mad Hattie's Tea Party
Wedding Wear: Head-to-Toe Vintage
Happy Birthday to the Love of My Life
Caption This: Finn in Dreamland