Tortilla Chip Chicken
Delilicious: Tortilla Chip Chicken While I was growing up, my entire family would sit at the table to enjoy my mom's cooking and discuss our day. Today, it's not quite as easy with my husband sometimes out of town on business. Rather than lose out on the valuable bonding time that comes with dinner, I have begun including my daughter in some mealtime preparation. It allows me to teach her new skills and keeps her out of trouble when I am preparing the meal.
My most recent toddler-aided meal was a fun take on breaded chicken. Knowing how much my lil one loves an occasional treat of chips, I used baked tortilla chips to serve as breading. While I was busy prepping the raw chicken, I gave her a bag of chips and told her to go to town smashing them. She jumped on the bag, pounded it with her fists and finally she took a wooden cooking spoon to it. By the time she was done, I was ready for the tortilla crumbs and she was beaming at her accomplishment.
To see the entire recipe,
.
Tortilla Chip Chicken
babysugar original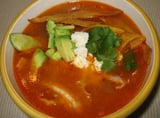 Ingredients
4 boneless, skinless chicken breasts, cut into inch-wide strips
1 bag baked tortilla chips, crushed
1 packet Lipton Savory Herb with Garlic soup mix
1 egg, beaten
2 T. butter, melted
Directions
Preheat oven to 375 degrees.
Combine crushed tortilla chips with soup mix in a shallow bowl.
Dip chicken strips into egg and then coat with tortilla chip mixture. Place strips on greased baking sheet.
Drizzle melted butter over chicken strips.
Bake for 12-15 minutes.
Serve with favorite dipping sauces (my daughter chooses a sweet and sour sauce, while I go for barbecue sauce)
Information
Category

Main Dishes

Cuisine

Mexican