Tot Talk: The Hilarious Things Kids Say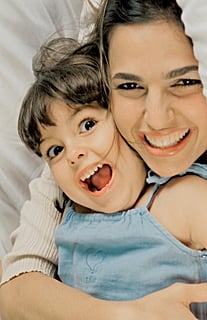 Most mothers think their children are crack-ups, but some things that come out of the mouths of babes are funny or offbeat enough to entertain the masses. I've compiled a few of my favorites from friends and my own offspring in the last month.
"I am getting my baby in five years!" — Three-year-old boy to his grandma after his parents told him he was going to be a big brother.
"You are such a big boy. I love you!" — Two-year-old boy to mother after she handed him an ice cream cone.
"Daddy has a tail. The baby has a tail too!" — Two-year-old girl to her mom after seeing her dad get out of the shower and her brother's diaper being changed.
"Cole and I met at the gumball machine and hung out everyday then poof! he was gone." — Four-year-old girl telling her mother about "boyfriend." The mom asked if she was sad and the little girl replied, "No, I'm going to move on because that is what women do!"
"I didn't do that my imaginary friend Andrew did. Actually, I don't have an imaginary friend, but I don't want to pick up the wrapper and I'm running out of names." — Five-year-old girl responding to mom's question about who threw their wrapper on the floor.
"Hi, mom! How are ya doing today?" — Two-year-old boy's question to mother after they came home from spending six hours at the park and running errands together.
Has your youngster said anything humorous lately?