Toy Box: Chuga Chuga Talking Choo Choos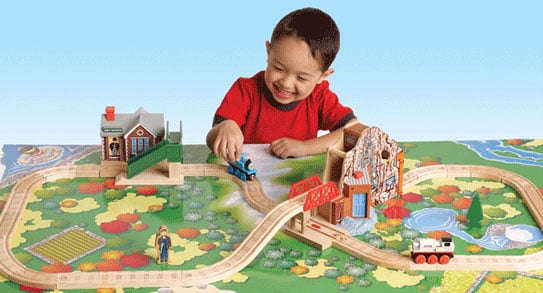 All aboard! If you want one toy that will occupy your tot for hours upon hours, invest in a train table and then spruce it up with the Talking Railway Series from Learning Curve. Amazing engine recognition technology brings the world of Thomas to life with personalized greetings from Sir Topham Hatt himself.
The Great Discovery Set ($150) includes the Great Waterton Station and Morgan's Mine, Stanley and Thomas engines, and additional train tracks. Watch your kid's eyes widen each time he hears Sir Topham Hatt call each engine by name as they pass by the station. Continue to add additional stations or Talking Railway engines to create fun combinations and endless enjoyment. Though the train system is a tad pricey, it's an investment that lasts for years and can be passed down to siblings or friends.