Toy Box: At Home in the Trees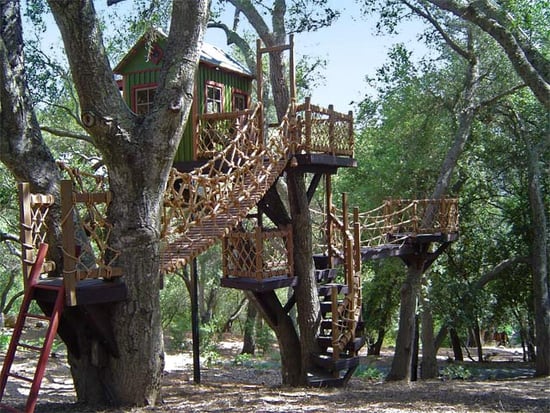 As a child, one of my favorite poems was Shel Silverstein's "Tree House." I dreamed of having a tree house I could escape to when I needed a minute alone. Now that I am about to move, I couldn't help but go ga-ga over this Tree Top Inn designed by Barbara Butler. The multi-tree, multi-level house has a 17-foot swinging bridge, an eight-foot straight bridge, a club house with a tin roof, a balcony, several decks, and a winding staircase. The San Francisco-based Butler creates a variety of backyard play structures for kids and adults, often using colorful redwood and including a secret escape hatch in each model.
To see why my dream may be put on hold,
.
It's easy to see why celebrities like Bobby McFerrin, Kevin Kline and Phoebe Cates, Robert Redford, and Will and Jada Pinkett Smith have commissioned Butler to make custom play areas. The designs are unique and fun for the whole family, if not the entire neighborhood. But with prices ranging from $25,000 to $156,000 (like for the Tree Top Inn), it may be a while before I'm asking her to build one.