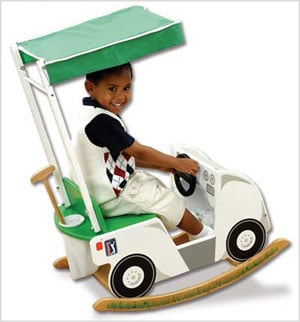 December 14 marks the day that the first miniature golf course opened. And because we know that kids (and adults) like to play a round of putt–putt, we scavenged around and found this ultra–cool PGA Golf Tournament Rocker $95.
The green canopied "golf cart" has grass strewn along the rocking rails, a steering wheel to avoid those pesky sand traps, and a bucket in back for those clubs that Junior needs to stow away while he's rockin'.
This toy is sure to be an ace in the hole if your lil ones are into golf. I would bet that Tiger Woods has got one of these bad boys for Sam. If he doesn't, he certainly needs one!