It's hard to figure out what to buy a baby when they will likely outgrow it in a few months. The folks at eBeanstalk recognize this is a common issue and are making gift-giving much easier.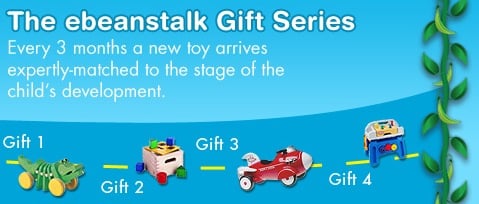 The eBeanstalk gift series sends a new, specifically age appropriate educational toy to a recipient every three months for a year. The spacing of the toys ensures that the child is playing with each toy when they are ready for it. The packages range from $99 for a basic series to $282 for the ultimate series, and each gift arrives with an instruction card explaining why the toy was chosen and what skills it should help develop.
The gift series start with newborn packages and go up to four years old, providing plenty of options at a variety of price points. One of my favorite aspects of the service is that they offer a "Space Saver" gift series (great for the apartment dwelling family) and a "Travel" gift series (for the globe-trekking tot that needs to be occupied for long flights and car rides).